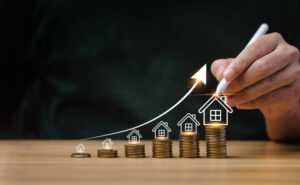 If you are looking for a way to increase your investment portfolio, one of the most popular current solutions is through an investment into real estate property. With this approach, you can continue to hold onto this vital resource, while using it for passive income through renting out the space. In many areas, short-term rentals have become an increasingly viable solution, often providing for speedy returns on investment. Others prefer to fix up old homes and make them livable for new families!
With our team of home loan experts at FHL Texas in Frisco, TX, you can discover all of your options when planning for a second home as an investment. Set aside some time to speak with our team about all of your options, and make a decision armed with the knowledge that you need. From HECM loan reverse mortgages to refinancing your current home loan, our team is here to help you to understand the financial landscape in real estate in the Metroplex!
With Interest Rates Climbing, Is Now The Right Time To Invest?
One common question that potential homebuyers often have is whether now is a smart time to invest in real estate. Home prices have begun to dip a little bit from their pandemic highs, and for some, this can feel like a sign that it might be time to hold off. While the landscape has started to shift a little, it is also important to remember that homeownership is a long-term solution, even for most investment properties.
Even with all of the changes over the last few years, real estate can be a beneficial area for you to grow your money. When you decide to rent your property out to others, you can continue to earn money while you pay off your initial mortgage. This can provide a serious opportunity for a shrewd investor!
A Second Home Can Be Your Chance To Break Into The Real Estate Market
When you are looking into real estate investment, some areas may seem too unpredictable to justify the risk. For example, commercial real estate is rapidly changing in value due to an increase in home workers, so you might shy away from those discussions.
Residential investment pieces can be a great way for you to own something with intrinsic value. After all, people will always need a place to live, and by jumping into the passive income world, you have an opportunity!
Learn More About Financing Your Investment Property With FHL Texas
Here in North Texas, property is quickly becoming a key resource for shrewd investors. To learn more about your financing options, or to schedule a meeting, give us a call at FHL Texas in Frisco, TX at 1-800-990-LEND(5363)!