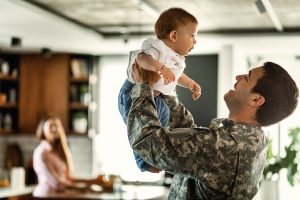 Figuring out home loans on your own can feel intimidating — there are so many factors that can determine your mortgage and eligibility for one. For United States Veterans, service members, and surviving spouses, the process of securing a loan becomes quite a bit easier. In today's blog, Family Home Loan Texas discusses the details of VA Loans and the ways their generous terms can help you. 
What Is A VA Loan?
It is a special type of mortgage loan that is available through the U.S. Department of Veterans Affairs (VA), and it is for veterans, service members, and the spouses of those who died while in service. It is a particularly generous loan with highly beneficial terms for those who qualify. They require little to no down payment, no mortgage insurance, and no pre-payment penalties. Overall, VA Loans are extremely attractive mortgages that are specifically designed to help those who have sacrificed a lot for the United States.
What Are The Benefits?
As noted above, there is typically no down payment required for purchases. This means you can buy a home without paying anything upfront. Occasionally, a borrower will have to put a little down if it is necessitated by the lender or if the cost of the home exceeds the appraised value of the property. Even though you probably won't need a down payment, your interest rate will still be highly competitive. If you do qualify for a VA Loan, you are not required to pay mortgage insurance, and you can still receive a mortgage even if your credit score is considered just satisfactory. Finally, there are no pre-payment penalties, which means that you will not be charged for paying off your mortgage early. 
What Types Of VA Loans Exist?
We've mostly been discussing home buying loans but the VA offers others as well. For instance,  cash-out refinance loans are available. These allow mortgage holders to borrow against home equity to pay off debts, make home improvements, or help pay for school. This refinancing option offers a new mortgage for a larger amount than the existing note and converts home equity into liquid funds. 
Interest rate reduction refinance loans are another service offered by the VA. They are also known as VA streamline refinance loans and help borrowers receive a lower interest rate by refinancing an existing VA loan. It allows homeowners with an existing VA loan to refinance a fixed-rate loan at a lower interest rate or convert an adjustable-rate mortgage (ARM) into a fixed-rate mortgage.
Contact Us To Learn More About VA Loans
Schedule an appointment, so we can help you navigate VA Loans and any other type as well. Family Home Loan Texas was founded by loan originator and long-time mortgage professional Rob Bramer. Rob has helped clients secure the loans they need both locally and nationally and can help you get the loan you need to live life on your terms. Call 1-800-990-LEND (5363) to speak with Rob about your home loan needs, including refinancing and reverse mortgage loans.