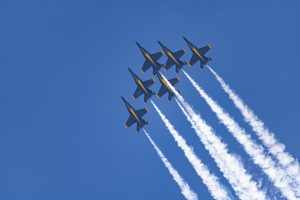 While last week's community blog was focused on some fun, albeit earth-bound local events, today's post is going to be looking towards the sky. Grab your aviators and bomber jacket because, in today's blog, Family Home Loan Texas is going to tell you everything you need to know about the Bell Fort Worth Alliance Air Show.
What Exactly Is It?
Founded in 1991, the Bell Fort Worth Alliance Air Show showcases premier aviation talents. It is a thrilling airshow that also gives a lot back to the community. It expands the region's vast aviation legacy, honors our military and veterans, and raises funds for North Texas nonprofit organizations. Today, it is considered one of the country's premier air shows. You can learn more about the event's interesting history and the way it gives back here. 
What To Expect
First and foremost, expect to have a blast. The event takes place on October 23 and 24, and gates open each day at 10:00 a.m. Make sure you are there before 1:00 p.m. because that is when they close to inbound traffic. The performances begin at 11:00 a.m. so you will want to arrive early, so you don't miss anything. When you buy tickets, you will likely want to add on a parking pass, so you don't have to lose time trying to find a spot somewhere else. This event is great for the whole family, so bring everyone along with you.
Thrilling Performers
The event is headlined by the illustrious and impressive U.S. Navy Blue Angels. This group consists of some of the world's most elite pilots. They are all active duty Sailors and Marines, and your jaw will drop watching them perform heart-stopping stunts in top-of-the-line military jets. Not only will you get to watch the Blue Angels, but you will also get to see other top-tier pilots and planes. Notable performers and sites include the All Veteran Parachute Team, Bill Stein, and the F-16 Viper Demo Team. You shouldn't miss any others, and you can find more information here. Whether you are an aviation enthusiast, or this is your first time attending an air show, you are bound to have an exciting, fun day. 
Contact Us And Tell Us Your Favorite Events This Week
We are always looking for new, fun things to see in the North Texas area, so please be sure to let us know your favorite. Family Home Loan Texas was founded by loan originator and long-time mortgage professional Rob Bramer. Rob has helped clients secure the loans they need both locally and nationally and can help you get the loan you need to live life on your terms. Call 1-800-990-LEND (5363) to speak with Rob about your home loan needs, including refinancing and reverse mortgage loans.