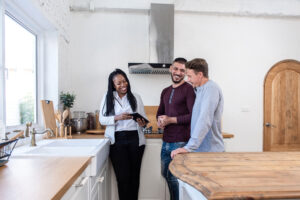 Homeownership is something most Americans strive for; we all want a piece of property that we can call our own. However, looking at the cost of homes can be a daunting exercise. With six-figure pricetags, purchasing a house is a major investment. Luckily, with mortgages and monthly payments, buying a house is not just for those who can pay for it all upfront with cash. That said, it is important to understand what you can afford, so you can still cover other important expenses. In today's blog, Family Home Loan Texas talks about how much money you need to buy a house.
The Down Payment
The largest amount of money you'll spend — at once — when buying a house is the down payment. This is a percentage of the total cost of the house, though you also need to factor in other closing costs. In the past, it was thought that you need to pay 20% of the total cost as your down payment. Though doing this will lower your interest rate and make you a more competitive buyer, you can still put down less money up front with government-backed loans. For instance, first-time buyers can qualify for FHA loans that only require 3.5% down. That said, monthly payments will likely be higher due to interest rates and insurance costs. Tools like loan calculators can help estimate your monthly mortgage payments by factoring in your down payment size and estimated interest rate. 
How Much Should Your House Cost?
The answer to this will vary for everyone. You need to factor in the size of the house you need, the average cost of homes in your area, and the amount you can afford. Though the needs for everyone differ, a general guideline is that you can afford a house that is 2 to 2.5 times their gross household income. If you make $100,000 a year, the total cost of your house can be between $200,000 and $250,000. That said, it is more advantageous to figure out the monthly payments you can afford and go from there. If you already have money saved up for a larger down payment, you may have more wiggle room. 
What To Put Down
As noted above, putting 20% down will allow you to have lower monthly payments, but most people do not go this route. For instance, those who qualify for VA Loans can put 0% down on a home. Fannie Mae and Freddie Mac are government-sponsored entities that require only 3% down for borrowers with high credit scores. There are plenty of other programs too, so make sure you ask your lender what you can qualify for. At the end of the day, you need to assess what you can afford and base your home purchase on a realistic budget.
Contact Us To Learn More About How Much You Can Afford
We know that buying a home is a major investment, but we are here to help you through every step of the process. Family Home Loan Texas was founded by loan originator and long-time mortgage professional Rob Bramer. Rob has helped clients secure the loans they need both locally and nationally and can help you get the loan you need to live life on your terms. Call 1-800-990-LEND (5363) to speak with Rob about how he and his team can help you through all aspects of buying a home — including figuring out what you can afford.