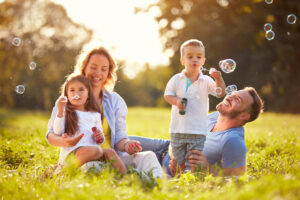 We are now in the familiar lull between Thanksgiving and Christmas where we have the time to charge our social batteries and prepare for the upcoming holidays. Whether you are trying to wrap up projects before the New Year, or you are scrambling to buy gifts, it is a busy time. With that in mind, it is important to still indulge in fun activities when you can. In today's community blog, ​​Family Home Loan Texas discusses what family-friendly events are happening across North Texas.
Christmas at the Beach at Lakefront at Little Elm
From now until the end of the month, you can enjoy the Christmas spirit on the beach in Little Elm. Take the kids to visit Santa and his elves while also enjoying the glow of a large Christmas tree, hot cocoa and smores, and lots of decorated elf houses. What's more is tomorrow, December 4th, there will be a fabulous Christmas parade and tree-lighting ceremony. You can learn more about the events here.
Vitruvian Lights
You will definitely want to check out the largest light display in North Texas. Located at Vitruvian Park in Addison, you can enjoy over a million sparkling LED lights spread across 550 trees from now until January 2nd. Tomorrow, the Dallas String Quartet will play from 6:00 – 10:00 in the evening. There will also be food trucks, tasty desserts, and pictures with Sanat Clause, himself. You can find out more about Vitruvian Lights here.
Rudolph The Red-Nosed Reindeer
We all need a little theater in our life, and there's nothing like a Christmas play to satisfy this need. Until December 23rd, you can enjoy the classic production of Rudolph the Red-Nosed Reindeer at Casa Mañana in Fort Worth. This is an immensely popular musical with lots of well-known songs like "The Island of Misfit Toys," "The Most Wonderful Day of the Year," and, of course, "Rudolph the Red-Nosed Reindeer." You can buy tickets and learn more about this family-friendly production here.
Dallas Holiday Parade
Tomorrow, December 4th, you can enjoy the 33rd annual Dallas Holiday Parade. It is the city's largest outdoor event and features giant parade balloons, marching bands, fun floats, and other holiday mainstays. It is a free event, but if you want to sit in bleacher seats, you can reserve them online here. If you can't make it to downtown Dallas in person, do not worry; the entire parade will be streamed live on the CW television channel. This event is a yearly tradition for a good reason.
Contact Us To Tell Us About More Family Fun Events
Now is a great time to get into the Christmas spirit, and we are always on the lookout for more events. If you have any recommendations, please send them our way. Family Home Loan Texas was founded by loan originator and long-time mortgage professional Rob Bramer. Rob has helped clients secure the loans they need both locally and nationally and can help you get the loan you need to live life on your terms. Call 1-800-990-LEND (5363) to speak with Rob about your home loan needs, including refinancing and reverse mortgage loans.