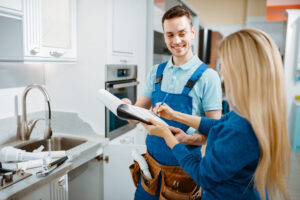 When you are purchasing a home, it can feel like there is an endless list of tasks and have-to's before you even close. Purchasing homeowner's insurance, for instance, is an important step that is both mandatory and will also protect you and your belongings from severe damage. Similarly, as you are buying a house, you may be confronted with the option to purchase a home warranty. While it may seem adjacent to insurance (and therefore beneficial), it is its own thing entirely, and might not cover what you'd expect. In today's blog, Family Home Loan Texas discusses everything you need to know about home warranties.
What Are Home Warranties?
It is essentially an agreement between you and a home warranty company that provides discounted repairs and sometimes replacement service on large home items like a furnace, the HVAC system, plumbing, and others. As mentioned above, while it is adjacent to homeowner's insurance, the cost of it isn't always worth the benefits you get. The warranty usually costs a few hundred dollars a year, typically paid upfront. You also must pay a service fee for the repairs or replacement.
The Pros And Cons
The biggest benefit is that it can provide peace of mind in case something major breaks down. It can come in handy if you do not have an emergency fund or enough saved up to take care of a large, necessary fix. If you are selling a home, you could also provide a year of it for the buyer in order to mitigate any potential complaints from them. As a buyer who may have already spent a lot purchasing the house, this can be helpful. You also won't need to go through the hassle of finding the person to fix the issue because the warranty company uses specific contractors to fix issues.
On the other side, there are often many stipulations that come with the warranty. For instance, it will not cover things that haven't been "properly maintained." The definition of proper maintenance is nebulous and changes from company to company, meaning that it can be difficult to tell what meets these criteria. Furthermore, if something is, in fact, "properly maintained," the chances of it needing repair are minimal. Thus, you might be paying the premium for nothing, if the warranty deems your major items not maintained or if nothing breaks down. Overall, only you can make the decision to get a warranty based on your needs. In many cases, however, it can be beneficial to put the money you would spend into an emergency fund, and then use it when the need arises. As always, it is important to consider all the payments you need to make monthly and determine your budget.
Contact Us If You Have More Questions About Home Warranties
We know there is a lot to think about when you are buying a house, but we are here to help with any questions or issues you have. Family Home Loan Texas was founded by loan originator and long-time mortgage professional Rob Bramer. Rob has helped clients secure the loans they need both locally and nationally and can help you get the loan you need to live life on your terms. Call 1-800-990-LEND (5363) to speak with Rob about how he and his team can help you through the entire home-buying process.