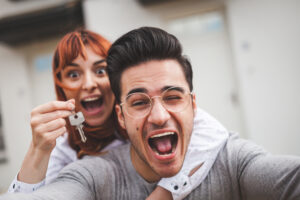 Buying a home is a major undertaking for anyone — but especially for those doing so for the first time. There are seemingly endless amounts of information, jargon, and requirements, and if you've never gone through the process before, it can feel overwhelming. Luckily, there are actually myriad benefits to being a first-time buyer, and it is important to take advantage of them. In today's blog, Family Home Loan Texas walks you through the essentials that all new house buyers should know. 
Who Is Considered A First-Time Buyer?
Believe it or not, this definition isn't reserved solely for those who have never bought a fact. In fact, the criteria from the U.S. Department of Housing and Urban Development, (HUD) are quite flexible. In addition to those who have never owned a house, the following individuals qualify:
Someone who has not owned their principal residence for three years. 

Someone who has owned a home but whose spouse has not and are buying a house together

A single parent who has previously only owned a home with a former spouse while married.

Those who have only owned a property that was not in compliance with certain codes and

cannot achieve said compliance for less than the cost of constructing a permanent structure
These are just several of even more criteria that meet the definition, according to the HUD.
What Are The Advantages?
While you may feel like you are at a disadvantage as someone who doesn't currently have equity in a home or possesses the experience of going through the home-buying process, there are certain perks to being a first-time buyer. For starters, you can qualify for various loans, either conventional or backed by the Federal Housing Administration (FHA), that incentivize new buyers. These can offer down payments as low as 3%, which is significantly lower than the standard 20% that many mortgage loans require. 
Additionally, every first-time buyer can take out up to $10,000 from their IRA or Roth IRA account without having to pay the 10% penalty that one typically does for withdrawing early. If you are buying a home with your spouse and you each take this route, you will be able to cumulatively take out $20,000 without penalty, which can go a long way to securing a down payment. You will have to repay it within four months to avoid the 10% charge, but this can be a game-changer for many individuals and couples trying to purchase a house.
Contact Us To See How We Can Help First-Time Buyers
We know that purchasing a house for the first time can feel incredibly daunting, but we have the expertise to help you understand every aspect of the home-buying process. Family Home Loan Texas was founded by loan originator and long-time mortgage professional Rob Bramer. Rob has helped clients secure the loans they need both locally and nationally and can help you get the loan you need to live life on your terms. Call 1-800-990-LEND (5363) to speak with Rob about how he and his team can help you through the entire home-buying process.