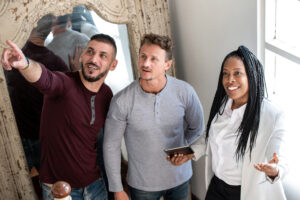 When you are buying or selling a home, it is easy to think of the process as consisting of just putting in or accepting an offer and then closing. This, however, is not the case, and there are lots of steps that go into the purchase and sale. Home appraisals, for instance, are crucial for both the transaction and for getting approved for a mortgage. In today's blog, Family Home Loan Texas talks about the various times you will need a home appraisal and what you should expect.
A Hopefully Helpful Refresher
Before we dive into the times in which you will need an appraisal, it is important to go over the basics. At its core, it is a process that establishes what a home is worth. It is conducted by a third-party, independent professional that takes an unbiased look at the property. As you might expect, this person looks at the condition and amenities of the house, but they also take more into consideration. They look at similar homes that have recently been sold in your area in addition to current housing market trends. 
They take all of this information, and likely more, and construct a thorough report. This includes the appraised price, pictures of the house and a map view, and their methodology for determining the overall square footage. This is such a crucial process because housing prices fluctuate based on the market, renovations, and other factors. The price you paid for a house is probably not going to be what it is worth several years down the road.
Situations When You Will Need One
As mentioned above, you will need an appraisal when buying or selling a home. When you are purchasing, your lender will want to know this value, as they will not provide more money than the home is worth. As a seller, you need to be aware of this because if you are asking for more than the appraised rate, many sellers won't be able to secure the funds to buy it. 
You will also need this to occur if you are refinancing or are trying to receive a reverse mortgage. Again, your lender wants to know the true value, so they can provide the appropriate amount of money while still protecting themselves in case of a default. Really, when you are doing anything that requires needing a home loan, you will need to have one of these. They typically cost a few hundred dollars, so make sure you consider this (in addition to closing costs) when determining your budget.
Call Us For More Information About Home Appraisals
We know there is a lot to keep in mind when buying, selling, or refinancing your home, but we are in your corner at every step along the way. Family Home Loan Texas was founded by loan originator and long-time mortgage professional Rob Bramer. Rob has helped clients secure the loans they need both locally and nationally and can help you get the loan you need to live life on your terms. Call 1-800-990-LEND (5363) to speak with Rob about how he and his team can help you through all aspects of buying a home — including appraisals.