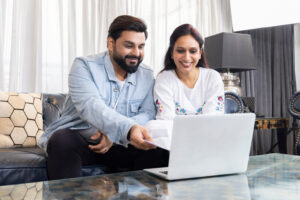 Buying a home provides more stability when it comes to your long-term finances, as you no longer have to move from one rental agreement to another and watch your monthly payments rise with each change. This consistency is one of many reasons people are excited to become homeowners; with that said, you do have the ability to change what you pay in time when you refinance. Many people look to change their monthly payments by refinancing. Between your buildup of equity in the home and market fluctuations, this can be a great way to hold onto more of your income while you stay at your property.
FHL Texas understands that refinancing, while appealing, can be intimidating to many. When should you make a move? What kind of terms can you secure? Should you take advantage of a cash-our refinance? Between our insights into the housing market and our help in understanding your loan terms, we can help you make an informed decision. This is just one of many ways in which we can help homeowners who want to improve their financial standing, as we also offer help in reverse mortgages, second home purchases, and investment property acquisitions!
Refinancing At The Right Time Can Help You In Many Ways
Choosing to refinance at the right time can give you a mortgage with a lower monthly payment, which can help you financially in many ways. After all, who would turn down the chance to keep more of their income each month? Of course, knowing whether the right time is now, soon, or later can prove tricky, particularly if you are not familiar with the housing market. Even though there are larger trends to follow, refinance rates can move frequently, making it difficult to know exactly when you should make your move. You also have to factor in how your specific property's value might have changed since you purchased it.
Ultimately, when the market makes a lower interest rate available to you, refinancing can offer a welcome reduction in monthly costs. Having an experienced person walk you through the process and determine if now is really the smart time to refinance can ensure you are thrilled with your decision, and that it will continue to benefit you in the long term.
Insights Into The Housing Market Can Help You Determine The Right Time To Refinance
We provide assistance to homeowners who want to know more about refinancing and how it might help them. This kind of assistance will help you avoid mistakes and misunderstandings that eat up more of your time and money as you pursue your refinance. It can also help you make sure that you are making a move at the right time. Our knowledge of the housing and lending markets can reduce stress and confusion around this kind of financial move. We can also help you understand what your options are for refinancing, as many will be able to earn funds on top of lower payments through a cash out refinancing plan.
We Can Help With Conventional And Cash-Out Refinancing Options
Both conventional and cash out refinancing can be good for homeowners in the long term. Any change in your mortgage that lowers your monthly payments can be helpful for budgeting, saving for retirement, and generally enjoying life. By choosing a cash out refinance, you can receive those lowered payments while you also use the equity you have accumulated to take away a sum of money as well. Using your equity in this way can help you with short-term expenses or investment opportunities; it is also a way to use a rise in the value of your home to set aside funds for long-term matters.
FHL Texas Helps Homeowners And Potential Buyers With Different Goals
The real estate market offers more than just places to live. Your plans for the future may require savvy investing. In addition to helping people find their personal residences, we can work with those who want to buy investment properties. These purchases come with different rules and requirements, and they affect what kinds of loans you can receive, making guidance beneficial even for those who feel more comfortable with traditional homebuying. We can also help if you want to put money into a second home to use as a vacation destination, gift, or for another personal purpose.
A cash out refinance is a welcome way to make money from your property; for homeowners who are 62 and older, another option for receiving cash is a reverse mortgage. This kind of loan does not come with monthly payments, as it actually provides consistent payouts to you. We can help you understand if you qualify, and we can provide important information on what this kind of loan does and does not require.
Talk To FHL Texas About Refinancing Your Home!
By refinancing your home at the right time, you can lower your monthly payments and hold onto more of your income! FHL Texas is proud to be a source of support for homeowners looking into this and other opportunities that concern the real estate market. If you would like to find out more about what we can do for you, call FHL Texas today at 1-800-990-LEND!