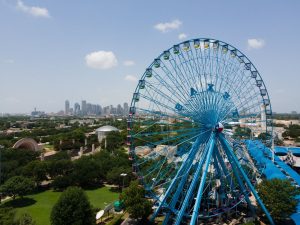 The magnificent State Fair of Texas is well underway, so if you haven't made it out yet — or want to go back — now is a perfect time. This is a particularly notable year for the fair because it is its first time back in two years. Now, it has returned in full swing, and all of us at Family Home Loan Texas could not be more excited. In this blog, we are going to give you our personal recommendations for your visit this year and tell you some fun facts about the largest fair in the United States.
A Historic Endeavor
The earliest incarnation of the fair began in 1887 and was known as the Texas State Fair & Dallas Exposition. In its early days, thousands of visitors flocked to the fair's home in East Dallas to witness racing stock, cattle sales, concerts, balloon ascents, and a myriad of contests. This period was also marked by various fires and the banning of horse races and gambling, drastically hurting its revenue. Starting in 1905, the State Fair of Texas was born and has persisted to this day. Its current incarnation under new leadership began in 1988 and has been growing ever since. Today, the fair boasts 2.5 million visitors from around the globe each year.
Eat Your Heart Out
While the history of the fair is fascinating, one of its most exciting parts is the creative and crazy foods it offers each year. This year, some of the standouts include Deep Fried Seafood Gumbo Balls, a sweet dish called The Armadillo, Crispy Crazy Corn, the Lucky Duck Dumplin', and many others. You can find even more notable dishes here.
Try To See It All
It is almost impossible to see all the fair has to offer in a single visit, but that doesn't mean you shouldn't try. It is always fun to saunter down the Midway at night, soaking in the radiant lights hanging from all sorts of vendors, rides, and games. You can win your sweetheart a giant stuffed animal from the ring-toss, or you can bask in the views of Dallas from the top of the Texas Star® Ferris Wheel.
Over the course of the fair's run this year, there are also tons of fantastic musical acts performing on multiple stages each and every day. We suggest visiting the live music page, so you can plan your visit around your favorite musicians. You should also check out everything else that is offered. This includes livestock shows, a huge showing of creative arts, and plenty of activities and shows for kids as well.
Hours And More
The fair is open until October 17th, so you should plan your visit now.
Its hours are:
Sundays – Thursdays: 10 a.m. – 9 p.m.
Fridays – Saturdays: 10 a.m. – 10 p.m.
We also suggest buying your tickets online, so you don't have to mess with them once you arrive. You can find them here.
Contact Us And Give Us Your Favorite Recommendations
Family Home Loan Texas was founded by loan originator and long-time mortgage professional Rob Bramer. Rob has helped clients secure the loans they need both locally and nationally and can help you get the loan you need to live life on your terms. Call 1-800-990-LEND (5363) to speak with Rob about your home loan needs, including refinancing and reverse mortgage loans.