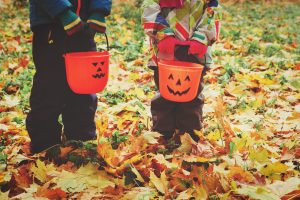 Ah, Halloween: that special day where it isn't looked down upon to exclusively watch spooky movies, carve faces into pumpkins, and shovel bite-sized candy into your mouth. If you have kids, it is also the time to take them trick-or-treating (how else are you going to get all that candy?). Unfortunately, not all neighborhoods have good options for this activity, so you might need to venture elsewhere. In today's blog, Family Home Loan Texas, talks about some of the best places to trick or treat in North Texas.
Swiss Avenue Historic District
Every year, hundreds of families drive to Swiss Avenue — a large, beautiful street in East Dallas. Houses go all out with their decorations and offer some primo candy to eager trick or treaters. If you do not live in the area, be sure to get there early to park, as street parking fills up quickly, and navigating the roads becomes difficult when they are filled to the brim with ghouls and goblins. 
Candy Crawl At The Irving Mall
You don't have to wait until Halloween to get your trick-or-treating in. The Candy Crawl takes place on Saturday, October 30 and you and your family will get more than just candy — despite the event's name. From 6:00-8:00, there will be a range of activities from trick-or-treating to spooky crafts to balloon twisting and more. 
7th Plano Family Expo Trick Or Treat
Again, if you want to warm up for Halloween, Saturday is a great day to do so. This year the Plano Family Expo Trick Or Treat is Back. It takes place at the Plano Event Center and there is a lot going on. You and the family will find bounce houses, a haunted maze, assorted games, a costume contest, and more. It does require either proof of vaccination or a rapid covid test done at the door, so just keep that in mind before you go. 
Frights 'N' Lights Frisco
This fantastic event offers a trick-or-treat trail where your family can wander up and down a light-filled, spooky strip filled with candy stations and ghoulish activities. Additionally, there are thousands of intricately carved pumpkins, themed rides, crafts, and lots of food and drinks. Frights 'n' Lights is certainly a spectacle to behold, so we highly suggest checking it out on either Halloween or the day before. 
Contact Us To Let Us Know Your Favorite Trick Or Treating Spots
Family Home Loan Texas was founded by loan originator and long-time mortgage professional Rob Bramer. Rob has helped clients secure the loans they need both locally and nationally and can help you get the loan you need to live life on your terms. Call 1-800-990-LEND (5363) to speak with Rob about your home loan needs, including refinancing and reverse mortgage loans.