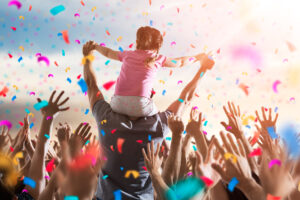 Halloween may be over, but there are still plenty of family-friendly events going on this weekend. We are lucky living in North Texas because there are great festivities happening seemingly every weekend. In today's blog, Family Home Loan Texas is highlighting activities that are sure to excite you and your entire family.
Canines, Cats & Cabernet
Tomorrow, Saturday, November 6th, Operation Kindness is presenting the 28th annual Canines, Cats & Cabernet Gala & Auction. It is being held both online and in-person and all of the proceeds go to provide shelter, medical care, and kindness for all sorts of homeless pets in DFW. Event-goes will be treated to dancing, dinner, auctions, and more. Those interested can learn more and purchase tickets here. The event is being held at the Hyatt Regency in Dallas. 
Lakefront Live! With The Baba Yaga Orkestar
Get ready for an evening of fun, eclectic music with The Baba Yaga Orkestar. It is a Balkan Brass Band that performs Eastern European music as well as American pop classics. This seven-piece ensemble is based in Dallas and plays traditionally-tinged music from countries like Bulgaria, Macedonia, Romania, and others. This concert is part of the Lakefront Live series that takes place at the Bath House Cultural Center on White Rock Lake. Grab your dancing shoes because you and the family will surely be grooving from start to finish on November 6th. Find more information here.
Fiesta del Día de los Muertos
Día de Los Muertos may be over, but you can still celebrate it for one more day tomorrow November 6th at Crown Hill Memorial Park in Dallas. This will be the 7th year of the event, and it is put on by the Hughes Family Tribute Center and will include great live music, performances, games, and fantastic dancers. The event is all-ages and more information can be found here.
Dinosaurs Live!
Who here likes dinosaurs? Just as expected: everyone does. Lucky for you, from now until the end of February, the Heard Museum Natural Science Museum & Wildlife Sanctuary is presenting Dinosaurs Live!  — an exhibit that is fun, educational, and exciting. Featured animatronic dinosaurs include Tyrannosaurus Rex, Dilophosaurus, Carnotaurus in addition to several others. You can buy tickets and learn more about the exhibit here. 
Contact Us To Tell Us About More Events Going On
If there are any upcoming events that you are excited about, we would love to hear them. Family Home Loan Texas was founded by loan originator and long-time mortgage professional Rob Bramer. Rob has helped clients secure the loans they need both locally and nationally and can help you get the loan you need to live life on your terms. Call 1-800-990-LEND (5363) to speak with Rob about your home loan needs, including refinancing and reverse mortgage loans.