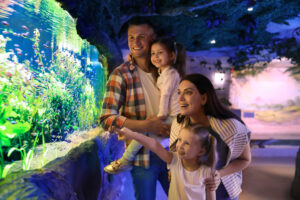 As you are probably well aware, we are fully in the time of year where most family-friendly events have a Christmas theme. Even last week, most of the happenings we mentioned in our community blog were holiday-related. Luckily, the DFW Metroplex has a wide variety of fun events, so even if you do decide to stick to the theme, it will never feel stale. With this in mind, Family Home Loan Texas has curated a list of fun happenings that are sure to entertain kids and adults alike.
Scrooge! The Musical
Until December 21st, you can experience the theater classic Scrooge! The Musical. It follows Scrooge from Dickens' A Christmas Carol as he finds redemption and transforms from a miser into a good, decent person. The play is taking place at the Artisan Theater in Hurst, TX, and is sure to be a great way to spend an afternoon or evening. It will, after all, get you and your whole family into the Christmas spirit. You can learn more and buy tickets here.
Movie in the Park: The Polar Express
Who said you can only watch movies inside? Because on Saturday, December 11th, you can make your way over to the beautiful Klyde Warren Park to watch The Polar Express. It is a free event, and there will be food trucks to provide delicious sustenance to accompany the movie-watching experience. Even though it's been warm lately, it could still be worth it to bring some blankets, just in case temperatures drop. You can learn more about the screening here.
Sweet Tooth Hotel: Rewind
Sweet Tooth Hotel is a fabulous art venue that showcases local and national artists who each have very different artistic sensibilities and voices. The Rewind exhibit centers on a vintage video store full of VHS tapes and some additional hidden spaces. It is difficult to describe Sweet Tooth Hotel, so we highly suggest taking the family to their space in Allen and checking it out for yourself. You can buy tickets and learn more here.
Towers of Tomorrow with LEGO Bricks
Who doesn't love LEGOs? No one, that's who. From now until the end of April, the Perot Museum is hosting Towers of Tomorrow, which features 20 iconic skyscrapers from across the world that were constructed over the course of 2,000 hours, using more than half a million LEGO bricks. They were all constructed by Ryan McNaught, one of only 21 LEGO certified professionals in the world. A trip to this museum is always a blast, and this is sure to live up to expectations. You can learn more and get tickets here.
Contact Us To Learn More About Fun Events
Now is a great time to get into the holiday spirit, and we are always on the lookout for more events. If you have any recommendations, please send them our way. Family Home Loan Texas was founded by loan originator and long-time mortgage professional Rob Bramer. Rob has helped clients secure the loans they need both locally and nationally and can help you get the loan you need to live life on your terms. Call 1-800-990-LEND (5363) to speak with Rob about your home loan needs, including refinancing and reverse mortgage loans.