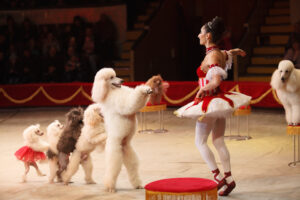 The weekend is finally upon us. We know that getting back into the swing of work after the holidays can be a drag. Plus, we are collectively spending a lot of brainpower deciding what to do with all the leftover eggnog — do we pour it down the drain? Do we keep drinking it? Is consuming it after Christmas even legal? Regardless of what you choose, we can certainly agree that we need to add some spice to our lives as we get back to the grind. Lucky for you (and us) there is a lot going on this weekend that is sure to be fun for you and your family. We have been writing these community blogs for a while now, and this weekend there is a particularly fun batch of happenings going on around the DFW metroplex. In today's blog, Family Home Loan Texas highlights some of our favorite family-friendly events.
Popovich Comedy Pet Theater
Juggling? Comedy? Circus pets? When else have you seen this combination before? You probably haven't, which is why you should check out the Popovich Comedy Pet Theater at the Coppell Arts Theater. Gregory Popovich (not to be confused with the coach of the San Antonio Spurs) is a veteran performer from the Moscow Circus and he is bringing his entourage of over 30 pet performers to North Texas on January 15th. This is bound to be unlike anything you've ever seen, so we highly recommend attending this performance. You can buy tickets and learn more here.
Selfie WRLD
Like it or not, selfies are here for the long haul, so you might as well take advantage of them. Selfie WRLD in Fort Worth allows you to do just that. Until May 1st, you can visit this immersive, selfie-centric photography museum to go wild with your front-facing camera. The exhibit is designed for this purpose, so there are fabulous (and highly photogenic) installations throughout the entire gallery. To learn more and ensure you are going to be the clout-chaser of your dreams click here.
Penguin Days at Dallas Zoo
It's getting colder (mostly), so that means it's penguin season at the Dallas Zoo. To celebrate these lovely birds, the zoo is offering lower admission prices from now until the end of February. While penguins may be the highlight, you can — and should — check out the rest of the magnificent animals residing at the Dallas Zoo. You can learn more and purchase tickets right here.
MLK Jr. Day Parade
On January 15th in Carrolton, you can celebrate the life of the Civil Rights icon Martin Luther King Jr. at this free memorial parade. It begins at 10 AM and highlights the vast accomplishments of a great man. Learn more here.
Contact Us For More Family Friendly Events In DFW
Whether you want to know more about the fun events happening around DFE this weekend or you want to learn more about home loans in North Texas, make sure you call us today. Family Home Loan Texas was founded by loan originator and long-time mortgage professional Rob Bramer. Rob has helped clients secure the loans they need both locally and nationally and can help you get the loan you need to live life on your terms. Call 1-800-990-LEND (5363) to speak with Rob about your home loan needs, including cash-out refinancing and reverse mortgage loans.