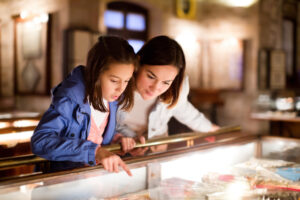 Is winter finally here? While we have been bouncing between 70-degree highs and 20-degree lows, it seems like this weekend is going to be consistently chilly. We know it is tempting to spend the days bundled up under blankets, nursing a hot chocolate in front of the fire, but there is also a lot of fantastic family-friendly events occurring across the metroplex. Bust out your favorite scarf and beanie because, in this week's community blog, Family Home Loan Texas highlights some of the premier events happening around North Texas this weekend.
KidFilm Festival
The 38th annual KidFilm Family Festival is the oldest and largest all-ages film festival in the country, and it is filled with educational and fun flicks that will keep the whole family engaged. It takes place at the Angelika Film Center in Dallas and runs on Saturday and Sunday. In addition to movies, there will be free books and time set aside for viewers to discuss the films being shown. A lot of films — both short and long — so make sure you check out the schedule before venturing out. The tickets are free, but seating is limited so be sure to get there early.
Hadestown
From now until the end of January, Hadestown is being performed at the Winspear Opera House in Dallas, TX. This musical tells two tales from ancient mythology and won eight Tony Awards — including best musical. Before the shows, there will be a delicious buffet from Wolfgang Puck Catering, so make sure to get there early to enjoy the tasty meal. You can learn more and purchase your tickets here.
The Continual Struggle by Brian Washington
Taking place at the George W. Bush Presidential Center, The Continual Struggle documents and traces all aspects of the American Civil Rights Movement. This exhibit consists of 25 pieces that utilize visual art to educate viewers about the myriad nuances and evolution of this immensely important time in American history. From now until the end of March, admission to the collection is free with the purchase of a ticket to the permanent collection. You can schedule your visit and learn more here.
FOCUS: Jill Magid
Until the end of March, The Modern Art Museum of Fort Worth is exhibiting works of Jill Magid. This collection consists of drawings and sculptures and developed out of her perceptions of officials' responses to the pandemic. She explores power dynamics between individuals and their larger communities. This is bound to be an insightful exhibit that will give perspective to adults and children alike. You can purchase tickets and learn more here.
Contact Us For More Family-Friendly Happenings In DFW
Whether you want to know more about the fun events happening around North Texas this weekend or you want to learn more about home loans in North Texas, make sure you call us today. Family Home Loan Texas was founded by loan originator and long-time mortgage professional Rob Bramer. Rob has helped clients secure the loans they need both locally and nationally and can help you get the loan you need to live life on your terms. Call 1-800-990-LEND (5363) to speak with Rob about your home loan needs, including cash-out refinancing and reverse mortgage loans.