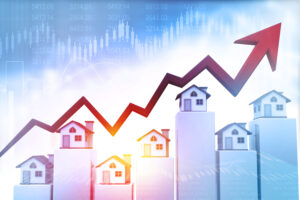 In our previous blog, we discussed navigating the housing market in DFW. If you have been following real estate news and prices in general, you've probably noticed that prices are significantly higher than they have been and that it seems like there are fewer homes on the market than there had been previously. With the pandemic, most things feel turbulent lately, and this includes the housing market. With this in mind, in today's blog, Family Home Loan Texas talks about the real estate and home loan trends that we expect for 2022.
Interests Rates Will Likely Rise — Slightly
At the end of 2020, mortgage interest rates hit an all-time low of about 2.6%, and while they gradually rose in 2021, they still remained beneath 3%. This was very attractive for those beginning new mortgages or those who chose to refinance last year. For 2022, however, these rates are predicted to rise more, though not too much. The Mortgage Bankers Association believes rates will hit 4% by the end of this year. Though this is an increase and may deter some folks from refinancing, it is still on the lower side compared to years and decades past.
House Prices Will Also Rise
It is also predicted that houses will continue to sell at higher prices than they would have in previous years. 2021 saw house prices go up significantly, and although they are expected to increase again, they should be at a slower rate. While this is frustrating for buyers — particularly first-time buyers — purchasing a house is still attainable, especially with FHA and other loans that require lower down payments. The slower rise in prices seems to be caused by a disillusionment from buyers — simply put, they are tired of being priced out of houses. This promotes less demand for houses on the market. Of course, everything mentioned above is a prediction, and we won't know what will happen until we see it for ourselves. 
What This Means For You
It is certainly a seller's market at the moment, but even if you are wanting to stay put, there are still advantages. Although interest rates are going up, house values are too. Even if refinancing doesn't make sense with the projected increase in interest rates, a cash-out refinance could still be financially feasible. Because your home's value may have gone up significantly, you could take out a larger mortgage and pocket the difference to use for home repairs or any other expenses you could use funds for.
Contact Us To Learn More About 2022 Home Trends
The past few years have seen lots of change and turbulence, but know when it comes to home loans, we have your back. Family Home Loan Texas was founded by loan originator and long-time mortgage professional Rob Bramer. Rob has helped clients secure the loans they need both locally and nationally and can help you get the loan you need to live life on your terms. Call 1-800-990-LEND (5363) to speak with Rob about how he and his team can help you through all aspects of buying a home.