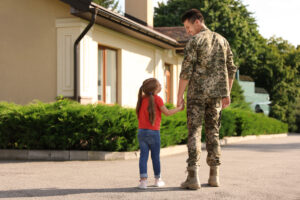 When you are in the market for a new home, the listed prices can seem dizzying. After all, not many of us have the cash to pay outright, so we turn to mortgage loans. Though these are incredibly helpful and necessary, even the down payment amounts can seem daunting. Though the payment for a conventional, traditional mortgage is around 20%, there are other loans available that offer lower down payments and other incentives. One of the most helpful and generous of these is a VA Loan, which is available to veterans their spouses, and others who meet eligibility requirements. In today's blog, Family Home Loan Texas talks about the benefits of these loans and how to know if you qualify.
Are You Eligible?
This loan is available for veterans, active service members, and the spouses of those who died while in service. As the name suggests, it is available through the U.S. Department of Veterans Affairs (VA), and it offers lots of benefits. It is a helpful tool that works to support those who sacrificed for the United States Military.
The Benefits Are Vast
One of the biggest perks of a VA Loan is that it typically doesn't require any sort of down payment. It also doesn't require mortgage insurance, nor does it have pre-payment penalties. It should be noted that you might have to put some money down if the cost of the house exceeds its appraised value. In addition to these benefits. VA Loans can also help those with lower credit scores that might not be able to secure a mortgage otherwise. Best of all, this loan has a lower-than-average interest rate, even with a lower credit score. Overall, if you qualify, you should absolutely consider one of these loans when you are looking to purchase a house.
VA Loans Can Do More Than Secure A Mortgage
In addition to backing mortgages, the VA also offers other benefits to eligible homeowners. They can help with cash-out refinances if you need to use your house as leverage to free up spendable cash. This money can be used for myriad purposes, like paying for home repairs, tuition, or really anything you need it for. Additionally, you could also get a VA Streamline Refinance Loan, which allows you to change from a fixed-rate loan to an adjustable-rate mortgage or vice-versa. Refinancing also allows you to take advantage of lower interest rates.
Learn More About VA Loans Today
We deeply appreciate the opportunity to help veterans and their families, so we invite you to reach out to us today. Family Home Loan Texas was founded by loan originator and long-time mortgage professional Rob Bramer. Rob has helped clients secure the loans they need both locally and nationally and can help you get the loan you need to live life on your terms. Call 1-800-990-LEND (5363) to speak with Rob about your home loan needs, including refinancing and reverse mortgage loans.