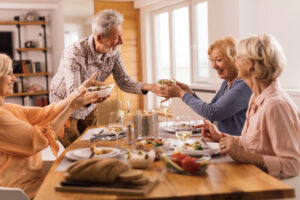 If you are nearing retirement age and own a home, there is a good chance that you either have your mortgage fully paid off or you are getting close. Over time, you have put a lot of equity into your home. Home equity is the amount of money you've put into your home versus what you still owe. While having a lot of equity provides you with security — both mentally and financially — it can also be used to help you live more comfortably and even help you fund your retirement, especially in 2022 when interest rates are at an all-time low. In today's blog, Family Home Loan Texas discusses the benefits of tapping into this equity and the different ways you can do so.
Refinancing Is A Great Tool
If you are still paying off your mortgage, refinancing is a great way to either save money by taking advantage of a lower interest rate or gain access to liquid funds. As a refresher, refinancing a loan is when you get a new mortgage at a different interest rate. Because rates are so low right now, you can secure lower interest on your mortgage. Even though you will likely have to pay new closing costs, you will still probably see thousands in savings over the duration of the loan. 
Another option is a cash-out refinance. This is where you take out a mortgage for a higher amount than your previous one, pay off the original, and pocket the difference. This is a great way to free up cash for large expenses. Many choose to do this for home repairs and renovations because it then makes your house more valuable. Home prices in North Texas are at a record high, so this is a great time to refinance; your home's increased value will likely result in your receiving more money with a cash-out refinance.
A Reverse Mortgage Means A Flexible Retirement
If you are 62 or older, a reverse mortgage is another great way to turn your home equity into cash. With this loan, instead of paying a lender each month, they pay you. The amount you get is based on the value of your home, so again, 2022 is a great time to consider a reverse mortgage. There are many misconceptions out there about these helpful loans, but one of their most attractive facets is that you get to remain in the house as long as you want, and you do not have to pay anything back until you cease living in your home. With the money you receive, you have the flexibility to spend your retirement however you want, not having to worry about living on a fixed income. 
Contact Us To See How You Can Tap Into Your Home Equity
If you have any questions about buying reverse mortgages or refinancing, please contact us today. Family Home Loan Texas was founded by loan originator and long-time mortgage professional Rob Bramer. Rob has helped clients secure the loans they need both locally and nationally and can help you get the loan you need to live life on your terms. Call 1-800-990-LEND (5363) to speak with Rob about how he and his team can help you through all aspects of buying a home — including refinancing and reverse mortgages.