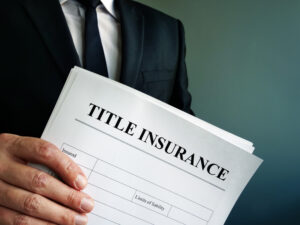 Buying a house is incredibly exciting; after all, you are finding a place that you love enough to call home. While this is certainly true, the actual purchasing process can be tricky and stressful. From navigating escrow to finding appraisers to more, there is a lot that buyers have to keep in mind. An often overlooked part of buying a house is protecting yourself should any issues arise with the seller's title to the home. There is nothing to worry about in most cases, but you still want to protect yourself should a problem with the title arise. Luckily, title insurance can keep you safe and worry-free. In today's blog, Family Home Loan Texas discusses title insurance and how it can protect you if problems with the sale occur.
What Is Title Insurance?
It is a type of insurance that protects home buyers from any damages or costs if there is an issue with the title. It also protects lenders from potential losses if the title is bad. For various reasons, the seller's title of the house may be bad or invalid. In some cases, the seller may not even have a legal claim to the property or is embroiled in a dispute about ownership. If something like this occurs, and you don't find out about it until after you make payments, you could be out a lot of money. Title insurance prevents you from being on the hook should an unforeseen problem arise after you've already paid for the property. 
What This Insurance Specifically Covers
When you purchase title insurance, you are really buying two kinds: the owner's title policy and the lender's title policy. Your lender will require you to get this kind before they give you your home loan in order to protect themselves. Your insurance protects you from a variety of situations that include:
Conflicting ownership claims — like will complications and similar disputes.

Outstanding lawsuits, liens, and similar encumbrances against the property that invalidate the seller's legal claim

Incorrect or flawed records — like honest mistakes like incorrect signatures

Legitimate fraud or forgery

Undisclosed easements or other agreements that may limit the usage or reduce the value of the property
These policies can typically cost between $500 and $3000, depending on where you live. You will usually purchase it once you and the seller have signed the property purchase agreement. While you do not have to have the owner's title policy, it is highly recommended. While it may seem like a high cost, you will be protected the entire time you own the property, making it a worthwhile investment.
The lender's title policy protects them from potential losses if the home's seller is not able to transfer the rights due to one of the above issues. The policy ensures that they are covered up to the full amount of the mortgage.
Why It Is Worth It
Ultimately, when you are buying a house, you do not want any costly, unexpected issues to pop up. While not being able to go through with purchasing a dream home is a significant blow, it will be much worse if you lose a significant amount of money because of it. Title insurance protects you if something major comes up, and it ensures that you will have enough funds to get back on the market and find another fantastic home. 
Contact Us To Learn More About The Home Buying Process
If you have additional questions about title insurance or want to know more about the home buying process in general, we would love to speak with you. Family Home Loan Texas was founded by loan originator and long-time mortgage professional Rob Bramer. Rob has helped clients secure the loans they need both locally and nationally and can help you get the loan you need to live life on your terms. Call 1-800-990-LEND (5363) to speak with Rob about your home loan needs, including conventional mortgages and refinancing.