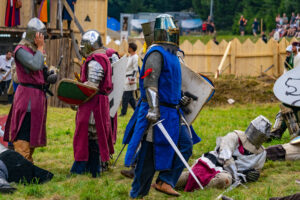 It is Friday, which means we are back with a new community blog. Looking at the weather for the weekend, it seems like it will be cloudy yet not raining, so the temperatures shouldn't feel too exorbitantly toasty. This provides a great opportunity to get out and about with your family and take in some great events happening across the metroplex over the next couple of days. Family Home Loan Texas highlights several of the most promising events occurring this Saturday and Sunday in today's community blog.
Scarborough Renaissance Festival
The Scarborough Renaissance Festival is a phenomenal event that many people look forward to all year long. It will transport you to the 16th century, where you can indulge in myriad fun and informative activities appropriate for the whole family. If dressing up in full costume is your thing, this is a great event to do so. You can watch jousting, eat turkey legs, listen to jesters serenade you, and so much more. This takes place in Waxahatchee and runs until the end of May. You can learn more and purchase tickets here. 
The Lion, the Witch & the Wardrobe
The renowned Dallas Children's Theater is putting on the classic The Lion, the Witch, and the Wardrobe. The play is based on C.S. Lewis' famous book of the same name, and this performance is bound to captivate audiences of all ages. It is a story of bravery, courage, and good and evil. The play runs until May 15th, and on the final date, there will be an ASL performance. Support this incredible local theater and see a great play by purchasing your tickets here.
Explorium Denton's Touch-a-Truck
Kids love trucks; this seems to be a universal truth. Luckily, this Saturday, April 30th, you can bring your children to Explorium Denton's Touch-a-Truck. At this event, kids can sit in, touch, and ask questions about a wide array of trucks. From fire trucks to ambulances to construction trucks and more, your child will be able to learn a lot about different fields and the ways each utilizes their vehicles. While the event is free, donations are encouraged. You can learn more here.
Family-Friendly Magic & Comedy Show at The Comedy Arena
This Saturday (and every Saturday for the next month), bring the family to The Comedy Arena in McKinney for some hilarious magic. Local family-friendly magicians will be putting on a spectacular show that will entertain kids and adults alike. Once you see magic, be sure to stick around for improv comedy. Learn more and buy your tickets here.
Please Contact Us Today
Family Home Loan Texas was founded by loan originator and long-time mortgage professional Rob Bramer. Rob has helped clients secure the loans they need both locally and nationally and can help you get the loan you need to live life on your terms. Call 1-800-990-LEND (5363) to speak with Rob about how he and his team can help you through all aspects of buying a home.