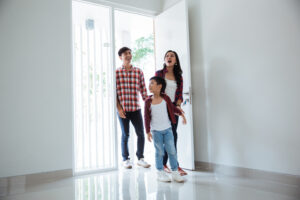 There are different life events that motivate people to stop renting and look for a home to buy. You could be motivated by the decision to grow your family, while another person could look to homeownership as a long-term investment. Just as there are different reasons why people decide to look for their first home, there are different loan terms that can help you purchase a property. FHL Texas can help you navigate the different questions and concerns you have around securing the right terms for your loan. With insights into the mortgage process and housing market, along with a no-obligation preapproval, we can make buying easier from the beginning. We can also talk to you about long-term plans after making a purchase, including information on why you might consider refinancing at a later date.
Are You Ready To Stop Renting And Purchase A Home?
The move from renting to owning can have many benefits. From a financial standpoint, doing so helps you build credit and generate equity through your property. You can also appreciate the stability that comes with owning instead of renting. With that said, your first attempt at buying a home can be intimidating. A lack of knowledge about the housing market, concerns about your credit, and more can impact this process. FHL Texas has experience working with first time buyers. We can provide important information, help you prepare for a sale, and discuss what kind of loan terms you can access. Our office also provides no-obligation consulting at the start of the property, so you can have a final review to make sure you are truly ready for this step.
What Should Your First Steps Be If You Want To Buy Property?
Even at times when the market favors buyers, a home purchase is a significant financial investment. Preparing on your own by building up your savings will help you with a down payment, but there are many matters that can affect your ability to make a successful purchase. A review of your credit, a survey of the housing market, and a look at prices of homes in areas that interest you can be a good start to buying. To continue towards your purchase, a meeting with a professional can help you both confirm that you are in the right place to buy and provide different terms that you can consider.
Learning About The Different Lending Terms Available To You
Both FHA loans and conventional loans provide buyers with opportunities to secure terms with relatively small down payments. For a first time buyer, this can be a big advantage. After all, someone who is moving from one owned property to another can spend more upfront thanks to the windfall of selling their previous home. An FHA loan is backed by the government, and can provide terms that generally favor people trying to make an initial purchase as well as those who have lower credit scores. With that said, they come with attached costs from MIPs (mortgage insurance premiums) that will have to be paid. Conventional loans can provide larger sums for higher value homes, and they can be secured for properties that might not be eligible for an FHA mortgage.
Walking you through your different loan types means more than just deciding between an FHA or conventional loan. We can also talk to you about fixed-rate and adjustable rate mortgages, help qualifying buyers secure Veteran Affairs (VA) loans, and options for balloon mortgages and jumbo loans. These different terms can ultimately give you a path to a property you love, and they can also provide terms that make a loan less intimidating to you.
We Offer No-Cost Pre-Approvals
By providing no-cost pre-approvals and consultations that are free from obligations on your part, FHL Texas can help you start the buying experience the right way. The right time to buy varies from person to person, and it can sometimes come as a surprise to learn that you have approval issues to address. Because you are not hooked into costs from an unsuccessful attempt to buy, you have less to worry over when it comes to starting your journey to owning a home!
Using The Equity You Build To Improve Your Loan Terms Later
Sometimes, the initial terms on someone's first mortgage are not exactly what they want. This may be because payments are higher, but it can also be because an adjustable rate mortgage promises to increase costs at a later date. When you look into what a company like FHL Texas can do, you can find that we are ready to help with more than just the purchase itself. As time passes, you will steadily build equity thanks to your purchase. When market trends change, friendlier terms can become available through refinancing. We can offer introductory information on refinancing and how it can help you when you are still looking to buy. With this information, you can make a more informed decision about a mortgage today while also looking to the future to secure more advantageous terms.
Talk To FHL Texas About Making The Move From Renting To Owning The Space Where You Live!
It can be exciting to transition from renting to owning your living space. However, it can also be intimidating when you lack the right information. With the support of FHL Texas, you can have an easier time finding the right terms on the right home loan. We assist first time buyers as well as those who wish to refinance, purchase a second home, or look into a reverse mortgage. If you have questions and wish to find out more about what we can offer, call FHL Texas today at 1-800-990-LEND (5363).