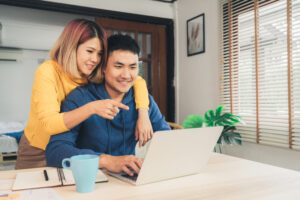 Whether the real estate market favors buyers or sellers, people looking for their first home or a new home can find a number of attractive properties. Of course, while it is an important choice, selecting the property you want is not the only choice you have to make. You can find that you have different options for loans, and they can come with varying terms. What you select can have a lasting impact on your financially. The right choice can certainly be advantageous, but the wrong one can lead to difficulties at a later date.
FHL Texas understands that information on mortgages is important, but that it can be difficult to know what you are agreeing to if you do not have the right support. We can help you throughout the process of reviewing and securing loan terms. Information on FHA or conventional loans, the impact of your down payment on your terms, and what you gain from selecting a fixed rate or adjustable rate mortgage can be explored. Starting with your initial no-obligation pre-approval, we can make the home purchasing process accessible and easily understood!
How Can I Be Sure I Secured The Right Loan Terms?
There are limits to what terms certain buyers can secure. Your credit history, the money you have for your down payment, and the cost of your loan all influence what you can receive. For a first time buyer in particular, it can be harder to secure the most favorable terms because there is no money to spend from the sale of a previously owned property. With that said, you should be careful not to take the wrong deal. After all, this is a financial commitment that lasts for many years. You also need to prepare if you have terms that will change in the future. Guidance throughout the mortgage process is important. We can help walk you through different loan types as well as what you can do to secure the most favorable terms. Because we provide no-cost preapprovals, we make initial inquiries about a loan more accessible!
The Right Guidance Can Help You Understand What Loans Are Available To You
For first-time home buyers in particular, clarity on the subject of mortgage terms is important. You have access to FHA loans that are government-backed as well as conventional loans that are secured through private entities Fannie Mae and Freddie Mac. Beyond this, you have options like fixed-rate and adjustable rate mortgages, jumbo and balloon loans, and even different terms for the length of your loan. Veterans have additional support through VA loans. As you go through the list of what you could secure, understanding what you should take can be less clear. Part of what FHL Texas offers is clarity in these matters. An informed choice is one that you can feel more comfortable with, as well as one that you can more easily prepare for in the long run.
How Refinancing Helps You Secure More Agreeable Terms In The Future
Refinancing is available to people who have been in their home and would like to make changes to their monthly obligations. As interest rates and home values change, windows can open up where owners can secure better terms on a new loan that replaces the mortgage they currently pay. We can make starting this process easier by providing refinancing with no out-of-pocket costs. Your options will include cash-out refinancing, which means you can turn some of the equity that you have built up to earn money you can spend as you see fit.
Making Long-Term Plans To Use Your Home Equity
Refinancing is not your only option when you want to make use of your home equity. When you have your mortgage more than 50% paid and reach the age of 62, you become eligible for a reverse mortgage. At this point, you will be able to take out a loan with no monthly payments required, one that can pay you consistently, in a lump sum, or even in the form of a line of credit that continues to grow. Having access to this kind of loan can be of significant value when you think about how you will fund your eventual retirement.
We Can Help You Secure The Right Terms On A Second Home Or Investment Property, Too!
FHL Texas is experienced with different types of loans for different types of property purchases. If you are looking to buy a second home, or if you want to start investing in real estate, we can help! These types of purchases come with different requirements and different terms. They can also make different demands on buyers. Our guidance can help you understand these new terms, and we can help you see how these forms of home ownership can have long-term value for you!
You Can Count On FHL Texas To Help You Secure The Right Terms For Your Home Loan
Finding the right home is important, but so is securing the right kind of mortgage. With FHL Texas guiding you, finding and securing the right terms becomes easier. We have experience helping buyers with different needs, experience, and credit scores secure loans that are right for them. From your no-obligation preapproval through the different steps of securing your loan, we can make sure the buying process remains clear and accessible to you. We can also help you at a later date if you wish to refinance and make changes to your terms! For more information on securing the right loan terms for your home purchase, reach out to FHL Texas today at 1-800-990-LEND (5363).