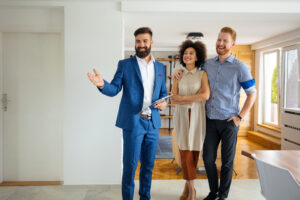 As exciting as it is to start the search for your new home, it is important to gather the right information early in the process. This means more than just exploring neighborhoods and looking at what properties are available, as you should also look into matters like pricing trends, changes in interest rates, and your own financial health. Financial matters can be more difficult to assess than the fitness of a home for your family. Fortunately, you can count on FHL Texas to provide important early guidance!
Families ready to make a home purchase can meet with us to learn how their credit history, their proposed down payment, and available loan terms will impact them. This expert guidance can give you important insight into the market, your loan options, and how you can proceed on the path to becoming a homeowner. Our support can be especially helpful to people who are trying to become first time homeowners, but it can be smart to receive expert guidance on the current housing market even if you have already been through this process.
When Should I Start Asking Questions About My Mortgage Options?
Does it make sense to start asking questions about mortgages before you have a house that you want to buy? Securing information early is helpful for several reasons. Inquiring about changes in interest rates and housing prices can give you a sense of what you can afford. By learning more about different loan terms and down payment expectations will further clarify what you should pursue. We can provide the right details to make the real estate market make more sense for you. Our no-cost preapprovals also help you secure the property you want!
We Can Support You By Providing Guidance And Helping You Secure The Right Mortgage
In addition to having a choice between government-backed FHA loans and conventional mortgages, you have access to different loan types that affect down payments and long-term rates. Guidance on what these terms involve, and how you can secure them, can be important at the beginning of your search for a house. Because we also provide information on housing market trends, we can help you time your search to secure a better rate and make a purchase that felt out of reach.
How A No-Cost Preapproval Makes Securing Your Desired Home Easier
Problems with securing a mortgage can slow down the buying process. It can even wind up costing you the home you want, as a delay on your end can create more time for someone else to make an offer. Fortunately, a preapproval can speed up the process of securing your loan and buying your home! One of the ways we help homeowners is by providing no-cost preapprovals. Preapprovals provide information on what loan terms you are able to receive. It can reassure a seller that you will be able to make the purchase that you desire, making you a more attractive buyer.
Choosing The Right Kind Of Loan
Both FHA loans and conventional loans can be secured with low down payments. This can be especially welcome news for first time homebuyers who do not have a previous home sale to supplement what they are ready to pay at closing. The choice to use one or the other can affect you in different ways; for instance, your choice can affect your total monthly payments by affecting your MIP (mortgage insurance premium). Beyond choosing between these two loan sources, you should know that there are different terms that affect not just what you pay but how you pay through the years. A fixed rate mortgage can provide more consistency over time, while an adjustable rate will impact what you pay at different times in the life of the loan. We have experience with securing these different mortgage types and others, and we can help you understand what they will ultimately mean for you. We can also talk to you about the impact that future plans to refinance can have on what you decide to take.
How Our Guidance Can Help You After Your Mortgage Is Secured
Through refinancing, a homeowner can replace a current mortgage with a new one that comes with new terms. The changes in interest rates and home prices can affect what a lender is willing to offer, which means the loan you received at the time your secured your home can be less attractive than one that is available in the future. Our support in the refinancing process can help you lower your monthly costs, and it can help you avoid steeper costs that are on their way with an adjustable rate mortgage or balloon loan.
Talk To FHL Texas About Securing Your Mortgage And Buying A Home!
Your ideal home may be easier to secure than you realize, but it takes the right information to understand what kind of home you can buy and what sort of mortgage you can secure. Fortunately, you can receive expert guidance on mortgage-related matters when you talk to FHL Texas! Through our assistance, you can learn more about the impact of preapprovals, expectations for down payments, and different loan terms. That information can help clarify what homes you should look at and what to expect once you commit to your purchase! For more information on how we can assist with different mortgage-related matters, please call FHL Texas today at 1-800-990-LEND (5363)!