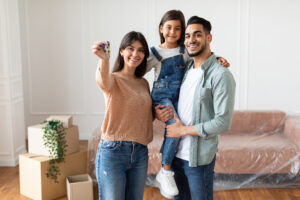 How will the move from renting your living space to owning your residence affect you? You can feel an immediate sense of pride in your status as a homeowner, and you can enjoy the stability of being so firmly set in where you live. A home can also offer more space, including outdoor spaces, that are yours to enjoy and maintain as you see fit. These comforts aside, there are also real financial benefits to home ownership that you should consider. In the long term, the growing equity in your home can raise your worth and provide real value in your later years. You can also take advantage of opportunities like refinancing and reverse mortgages at the appropriate times, which can help you set aside money and improve your financial standing.
The leap from renting to owning can be appealing, but it can also be intimidating for a first time buyer. Whether you are looking to secure your first mortgage or you are already a homeowner, FHL Texas can make buying easier. We offer support through no-cost preapprovals that help you move forward with an offer, guidance on what to expect from your mortgage terms, and general assistance to make sure your big move is the right one.
Reasons To Make The Move From Renting To Owning The Space Where You Live
Renting the home or apartment where you currently live provides shelter, but it has little value for your long-term financial health and credit score compared to what home ownership can deliver. By buying a property, you start to build equity, which can have significant impact on your net worth through the years. Doing so also provides stability, as you will not be at the mercy of rent prices that continue to rise. When you have a mortgage with set terms, you will know what to expect in the long-term from housing-related costs. With the option to refinance, you can even find that you are paying less than you initially agreed to in the future! Of course, you enjoy these practical benefits in addition to the assurance of truly controlling the space where you live and knowing you can do as you see fit to truly make it feel like home.
Building Equity Can Help You With Future Financial Planning
Paying your rent fulfills your obligation to your landlord. When you pay your mortgage, you are doing more than just honoring its terms, as doing so also raises the amount of the home's value that is attributed to you instead of the lender. In other words, you keep building equity as you pay off your loan, which means your net worth continues to rise. This can help you in many ways. As your equity grows, you can find it beneficial to pursue a HELOC (Home Equity Line Of Credit) or an equity loan. These let you borrow against the financial stake in your home that you have grown over time, and they can be used to handle any matters that require a significant sum of money. It also prepares you so that in the event that you need to leave where you currently live, a sale will put more money into your bank account. This can be vital to a move, as it lets you put down a larger down payment, handle various moving costs, and generally prepare to settle into a new space.
Refinancing And Your Monthly Bills
Interest rates and home values will continue to change after you set the terms for your mortgage and purchase your house. While your agreement gives you a set interest and sum to pay, you should keep paying attention to those changes. At the right time, you can take advantage of better terms in the housing market to pursue refinancing! This lets you replace your current mortgage with a new one that can offer better terms and lower monthly payments. In addition to simply lowering regular costs, this can help those who have taken out an adjustable rate mortgage or balloon loan, as the refinancing process ends with a new loan that no longer carries requirements that can raise your monthly bills or demand a significant payment toward the end of your mortgage.
Making A Reverse Mortgage Part Of Your Retirement Plan
Unlike with a HELOC or home equity loan, a reverse mortgage comes with stipulations that include a minimum age requirement. Homeowners who are at least 62, and who have sufficient home equity can qualify for this special loan, a means of using your equity to enjoy a significant and sustained flow of money. For many, this can be a valuable resource when planning for retirement. It can also be a great way to make sure you have the funds on hand to enjoy vacations, make home renovations, or take on future medical costs. FHL Texas can guide you on the benefits of traditional Home Equity Conversion Mortgages (HECMs) as well as Equity Elite and Equity Elite Zero loans that have been approved for Texas homeowners.
Our No-Cost Pre-Approvals And Expert Guidance Support First-Time Homebuyers
For first time home buyers, the earliest steps in the home buying process can be the trickiest. The lack of funds from a home sale and a lack of experience with the housing market can be tough to address on your own. To make matters easier, FHL Texas can provide important guidance on what kinds of terms are available for potential buyers as well as insights into how the current housing market will affect their choice to buy. We also provide no-cost preapprovals, which means you can show a homeowner with a property that interests you what a lender is prepared to give you in order to make the purchase.
Talk To FHL Texas About Making A Home Purchase
By talking to FHL Texas about buying a home, you gain important information about the housing market, the mortgage process, and the long-term value of ownership. We are ready to guide you through the process of securing terms on a home loan, making a purchase, and achieving the milestone of owning your first home! For more information on how we can support you, call FHL Texas today at 1-800-990-LEND (5363).