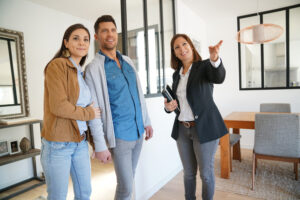 Whether you are ready to leave your current home for a new property, want to become a first-time homeowner, or have a different interest in the housing market, some expert guidance can be helpful. Interest rate movements, property value fluctuations, and changes in mortgage rules and options can all affect your experience as a buyer. They can also make the market difficult to keep up with even if you have experience with buying and selling. Fortunately, expert guidance is available to help you secure the right mortgage and buy the home you desire!
FHL Texas offers support for people who are interested in securing a mortgage and buying a home. We provide valuable insights and assistance to first-time buyers who can find the real estate market intimidating. In addition to helping you understand what options are available to you for loan terms and types, we provide no-cost pre-approvals to help you make a successful offer on the property you want. We also work with experienced buyers, including those who are returning to the market for a second home or an investment property.
Buying A Home Can Make Many People Nervous
Whether you are preparing to buy a home for the first time, are many years removed from the buying experience, or want to do something other than a conventional home purchase, you can appreciate some guidance. Few purchases are as significant as a home purchase, both for emotional and financial reasons. If you make a poor choice, you can find yourself with a space you are not in love with, and you can pay more than you wanted to keep it.
It can feel intimidating from the outside, but if you have the right guidance, a home purchase can be easier to arrange than you anticipate. FHL Texas provides support with mortgage matters. In addition to helping you understand what kinds of loans and terms are out there for you, we can provide a no-cost pre-approval. Having one makes it easier to make a successful offer on a home, as the seller will have reassurance that you can secure the funds you need to make a purchase.
Learning About Your Mortgage Options
There are different types of mortgages that are available, which opens you up to different terms for your home loan. Both conventional loans and government-backed FHA loans provide support for buyers, and they can be secured with down payments of 3% and 3.5% respectively. We can help you understand what one loan offers compared to the other in terms of your security, monthly obligations, and other matters. Just as you want to feel confident you are buying the right home, you should feel confident that you have the right terms. With that said, many buyers who have higher payments or terms that will change at a later date will refinance to secure better terms for the remainder of the time they pay on their home.
Securing A Loan With A Lower Down Payment
Because conventional and FHA loans can be secured with lower down payments, many buyers who feel the market is not accessible can find that they are able to secure a loan. Should you take advantage of this opportunity and put forward less money up front? The downside to doing so is that you will have a larger sum to pay back over time. Our feedback can help you assess whether this is truly the right time, or if you should wait until you can make a larger initial payment on a home.
How Pre-Approvals Lead To More Successful Offers
A pre-approval is an assurance from a lender that you will receive the loan you need to purchase a home. We provide these assurances to our clients at no cost. By doing so, we can make your offer more attractive to a seller. Not having this kind of support to back your offer can make them hesitant, and in some cases they may choose to take another buyer's offer because yours is less certain.
Buying A Second Home Or Investment Property
Does a second home interest you? Are you ready to buy your first investment property? FHL Texas helps with more than just conventional home loans. We can help you with more complicated transactions that help you improve your financial health. One important note is that investment properties and second homes carry different obligations and can limit what loan terms you receive. We can help you navigate this matter. An investment property can come with more financial obligations, so having help with a second home can be especially important. This is because we can make sure there is no confusion that you are buying a second home for non-investment reasons and should not face investment costs.
Talk To FHL Texas About Homebuying And Mortgage Matters
Even someone who has experience with the housing market can benefit from help with mortgage matters. FHL Texas assists buyers with different goals, experiences, and financial requirements. This help can make a key difference when it comes to securing the right loan and buying the right property! If you would like to find out more about how we can help you, please reach out to FHL Texas today at 1-800-990-LEND.