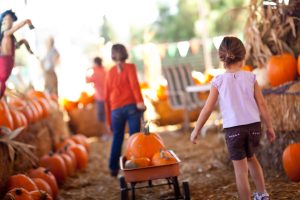 The Dallas Arboretum is one of our favorite spots in North Texas, and it is at its very best during the Fall. As the air starts to chill and the leaves begin to turn, this Dallas landmark is a sight to behold. Not only is it easier to stroll through without the punishing heat and humidity, but it has many wonderful, seasonally-specific sights to see. In today's blog, Family Home Loan Texas highlights all the arboretum has to offer this autumn.
Bugtopia
Don't let the name fool you. Bugtopia is the newest addition to pumpkin village at the Dallas Arboretum this year. Over 90,000 gourds, pumpkins, and squash fill the space in creative and artful ways. It is truly a sight to behold; the array of colors and care placed in crafting the village is truly awe-inspiring. This year, Bugtopia sees the addition of insect topiaries and bug-inspired pumpkin displays. Words simply cannot do this display justice — you should see it with your own eyes. If you have children, there is a fantastic maze for them (and you) as well. 
Additional Programming
In addition to Bugtopia, the Dallas Arboretum offers myriad other programs and activities through their Fall season. Every Monday at 11:00 AM sees a cooking class taught by Chef Aaron Hubbard. Each Tuesday there is a class that teaches you how to make your own floral arrangements and how to pick out the best flowers from the store. On Thursdays through the end of October, there is a family-friendly pumpkin scavenger hunt throughout the pumpkin village. Moreover, there is great live music on the lawn every weekend, so make sure you look at the schedule. 
Paid Classes For The Family
While everything above is free to attend, there are also some premium paid events and classes as well. You can bring the kids to a magical trick-or-treating evening, for instance. Or you and the family can learn how to make pasta by hand — and even take what you make home at the end of the class. For a couple's activity, you and your partner can learn how to craft chocolate bonbons and truffles. We highly suggest looking over their schedule because they offer so many activities all Autumn long. 
Contact Us To Tell Us Your Favorite Arboretum Activities
​​We hope you and your family make a trip to the arboretum this Fall. Family Home Loan Texas was founded by loan originator and long-time mortgage professional Rob Bramer. Rob has helped clients secure the loans they need both locally and nationally and can help you get the loan you need to live life on your terms. Call 1-800-990-LEND (5363) to speak with Rob about your home loan needs, including refinancing and reverse mortgage loans.